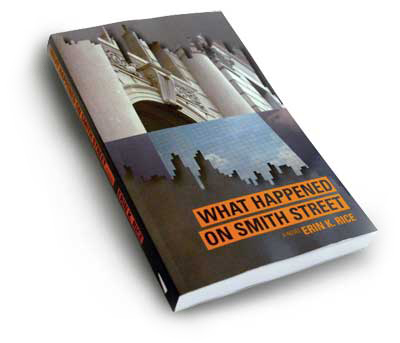 Fountainhead Print has published Erin Rice's What Happened on Smith Street, now available on Amazon. (Check out Erin's blog too.)
I did the design and production of the book and cover, which was a first for me. It was refreshing to get to manipulate that much content, to figure out the rhythm, experiment with how the subtleties of typographical tweaks change the feel of the story, and to come up with a cover — almost the opposite design problem as the inside.
Here's the scoop on the story:
Written by a true insider who had a front-row seat for the demise of Enron, What Happened on Smith Street is a tautly-crafted, suspenseful novel that chronicles the downfall of a corporation; stepping outside the office walls and into the individual ruin that is often overlooked. Shifting markets, unreasonable expectations, failure to heed warning signs–the hallmarks of insatiable consumerism are cleverly portrayed by Erin K. Rice
When it is revealed that two members of the Vantage PLC leadership team are involved in illegal financial transactions, the specter of mistrust taints the entire organization, including company CEO John Allen Wallace III. Wallace's reputation as an aggressive leader and an imperfect man makes his claim of innocence difficult to swallow. And his lurid involvement with the calculating and brilliant Amanda Parsons, the wife of a talented junior associate at his firm, only adds fuel to the speculative fire.
What Happened on Smith Street is a keen insight to the workings of a corporate powerhouse, as well as a stark reminder that the truth often takes a back seat to sensational fiction.
The weird thing is that I worked at a big energy company that nearly went out of business along with Enron, and I'm currently working for a large insurance corporation rocked by bad news with offices on Buffalo Bayou in Houston. I drive home every day past the building that is the "Commerce Museum" in the book and I eat at many of the restaurants named in the book. There was a fiction-world/real-world blurring that happened while I was thinking about and working on this project. It made me wonder whether I was going through life with blinders on, unable to perceive the dramas that might be happening all around me.