Biography and CV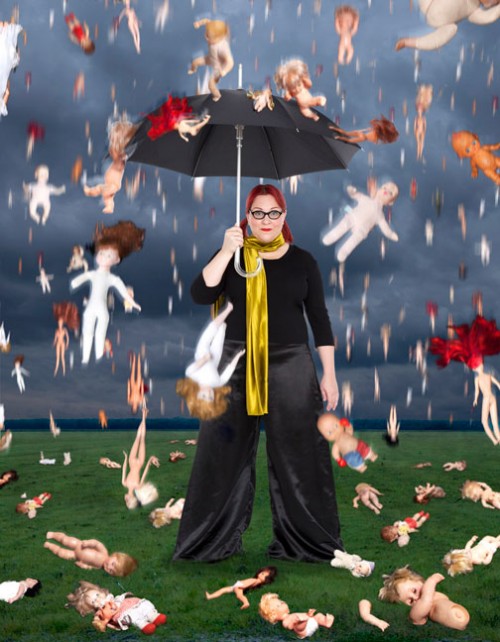 (photo by Felix Sanchez)
Thedra Cullar-Ledford, the only child of two struggling artists, was born in Abilene, Texas, later moved to Mexico City and then to Eagle Pass, a dusty little noplace on the Texas/Mexico border. At just 16, she was emancipated in order to move to Dallas by herself to attend the Booker T. Washington High School for the Performing and Visual Arts. From there, she received a full scholarship to California College of the Arts where she met her Stephen on the very first day. They were married by age 21. She received a BFA cum laude in painting and then attended the Ruskin School of Drawing and Fine Art at Oxford University in the UK for a masters in printmaking and sculpture. The family moved 16 times in 20 years before settling in Houston to establish her practice and build Independence Art Studios which provides studio spaces to other Houston artists. They have two sons (23 and 15), a dog, two cats, and six chickens.
"Thedra has been one of the biggest personalities and presences on the Houston scene for over a decade. A quintessential bad girl, her humorously aggressive feminist statements and explorations of the perversity of Texas' masculinist iconography have been widely exhibited and collected. She uses the familiar deformities of plastic doll bodies to speak to the way girls are indoctrinated into their social roles." Bill Arning, Executive Director, Contemporary Arts Museum Houston
Things got real in 2013 when, in her attempt to donate a kidney to a friend, she was found to have breast cancer and required a double mastectomy. Suddenly she found herself learning a sociopolitical landscape in which a largely male medical establishment was telling women patients what to do, think, and feel about their bodies. She encountered a community of like-minded breast cancer activists who, in the her words, felt no compunction to reconstruct their bodies to erase their post-surgery differences and thereby allow others 'the freedom to not think about cancer.'"
"I think as I get further from the intensity of being in the moment of dealing with cancer, it becomes more and more abstract. I can still talk about breast cancer specifically, but I think my work will go back to the same theme I've talked about for a while — cultural impositions on women — with unreconstructed breast cancer survivors like myself being Exhibit A of things gone too far."
Curriculum Vitae
Education
Christ Church, Oxford University Ruskin School of Drawing & Fine Art Oxford, UK
MA, Printmaking/Sculpture May 1994
California College of Arts & Crafts Oakland, CA
BFA cum laude, Painting May 1992
Booker T. Washington High School of the Visual & Performing Arts Dallas, TX May 1988
Solo Exhibitions
"Right Here, Right Now: Thedra Cullar-Ledford" at Contemporary Arts Museum Houston, Houston TX, August – December, 2016. Curator: Bill Arning
"Drawing the Eye to Nothingness" G Gallery, Houston, TX, April – May 2015
"Small Stains, Big Problems" Independence Art Studios, Houston TX, December 2013
"Living Dolls" New Gallery, Houston, January – February 2012
"Domicile" Thomas Werner Gallery New York, New York, September – October 2003
"Biometrica" McClain Gallery Houston, Texas July – August 2002
"Other People's Lives" Lawndale Art Center Houston, Texas April 2000
"Encase: To Wrap Up in Something Solid" Robert McClain & Co. Fine Arts Houston, Texas November – December 1998
"Solo Exhibition" Robert McClain & Co. Fine Arts Houston,Texas, October – November 1997
"Contain, Order, Move: The Box as Fundamental Form" Lawndale Art and Performance Center Houston, Texas January – March 1997
"Solo Collection" Ruskin School of Drawing and Fine Art Oxford, England May 1993
"Cradle to the Grave" Freud's London London, England, March 1993
"Cradle to the Grave" Freud's Oxford, Oxford, England, November 1992
Juried Exhibitions
"Seattle Erotic Art Festival" Seattle Center, Seattle, Washington, April 2017
"SITE Houston" The Silos on Sawyer, Houston,Texas, November 2015 – February 2016, Jurors:Bill Arning, Director of the Contemporary Arts Museum Houston and Jillian Conrad, professor of sculpture at the University of Houston.
"2010 Big Show" Lawndale Art Center Houston,Texas July -August, 2010 Jurors: Paul Middendorf, Co-Director for gallery HOMELAND, Portland, Oregon
"2000 Critic's Choice" Dallas Visual Art Center Dallas, Texas June – July 2000 Jurors: Sara Kellner, Director of DiverseWorks, Houston; Carla Stellweg, Director of Blue Star Art Space, San Antonio, and Chris Cowden, Director of Women and Their Work, Austin
"Transcending Limits" Jones Center for Contemporary Art Austin,Texas April 1999 – April 2001 Toured through Texas Jurors: Don Bacigalupi, Director of the Blaffer Gallery, Houston and Michael Ray Charles, artist and professor at the University of Texas at Austin
"The 173rd Annual Exhibition" National Academy Museum New York, New York April 1998
"New American Talent: The Thirteenth Exhibition" (prize awarded) Texas Fine Art Association Austin,Texas Sept. 1997 – Sept. 1999 Tour through Texas (Univ. of North Texas Art Gallery, Blue Star Art Space, San Antonio, Jones Center for Contemporary Art, Austin Juror: Robert Storr, Curator, Dept. of Painting and Sculpture, Museum of Modern Art, New York
"Women's Work" A.I.R. Gallery, New York, New York June – July 1996 Juror: Charlotta Kotik, Curator of 20th Century Art, Brooklyn Museum
"New American Talent: The Twelfth Exhibition" Texas Fine Art Association,Austin,Texas June 1996 – July 1998 Tour through Texas (Univ. of North Texas Art Gallery, Blue Star Art Space, San Antonio, Austin Museum of Art,Austin,Texas A&M University Art Gallery, College Station, and the Art League of Houston) Juror: Lisa Phillips, Curator, Whitney Museum of American Art, Organizer of '97 Whitney Biennial
"Healing Works" Woman-Made Gallery, Chicago, IllinoisMay 1996 Juror: Hollis Sigler, artist
"Bags and Baggage: New Form/New Function" Arrowmont School of Arts & Crafts Gatlinburg,Tennessee November – December 1995 Juror: Ruth Cloudman, Chief Curator, J.B. Speed Art Museum, Louisville, Kentucky
"December Competition '95" (prize awarded) Lubbock Fine Arts Center Lubbock,Texas November – December 1995 Juror: Jeffrey Moore, Director Blue Star Art Space, San Antonio,Texas
"11th Annual Competition" Berkeley Art Center Berkeley, California July – August 1995 Jurors: Renny Pritikin, George Rivera, Tere Romo
"North American Sculpture Exhibition" Foothills Art Center Golden, Colorado April – June 1995 Juror: Peter Shelton, artist, Malibu, California
"First Cut" The Cut Gallery London, England July 1994 Selected by Mark Segal, Dealer, London, England
"66th Annual Crocker-Kingsley Exhibition" Crocker Museum Sacramento, California April 1991 Juror: Karen Tsujimoto, Associate Curator, The Oakland Museum
Group Exhibitions
"Art Exhibition of the 2017 National Women's Conference" University of Houston, Houston TX, November 2017
"St. Valentine" Zoya Tommy Gallery, Houston TX, February – March 2017
"Cleave: Thedra Cullar-Ledford and Charise Isis" Nicole Longnecker Gallery, Houston TX, August – Ocober 2016
"Powerful Babies: Keith Haring's Impact on Artists Today" at Spiritmuseum, Stockholm Sweden, September 2015 – April 2016. Curators: Bill Arning and Rick Herron
"Confluence" G Gallery, Houston TX, January 2014
"Hullabaloo: Holiday ShaBang!" gallery HOMELAND, Houston TX, December 2013 – January 2014. Curator: Paul Middendorf
"Spring Introduction" Avis Frank Gallery, Houston TX, March 2013 – April 2013
"10 Houston Artists: An Invasion of Space for 2011 Contemporary Art Month" Hilton Palacio Del Rio San Antonio, Texas March 2011 Curator: Wayne Gilbert, G Gallery, Houston, TX
"H2O Houston to Hyderabad" Muse Gallery Hyderabad, India January 2011 – February 2011 Curator: Rahul Mitra
"Five Texas Artists: A Portrait Series" Enid Street Gallery Houston, Texas December 2010 – January 2011 Curator: Felix Sanchez, Houston,TX
"Red Velvet" Vine Street Studios, organized by Rudolph Projects Houston, Texas June 2007 – July 2007 Curator: Volker Eisele, ArtScan Gallery Houston,TX
"Book Works" Galveston Arts Center Galveston,TX January 2007 – March 2007 Curator: Clint Willour
"Texas Dialogues: Houston-San Antonio" Blue Star Art Space San Antonio, Texas December 2001 – January 2002
"Small Works" McClain Gallery Houston, Texas December 2001
"Daily Life" ArtScan Gallery Houston, Texas September 2001
"Sculpture 2000" Robert McClain & Co. Fine Arts Houston,Texas June 2000
"Urban Girls" El Museo Francisco Oller y Diego Rivera Buffalo, New York April – May 2000
"Mania Art Car Museum" Houston, Texas December 1999 – January 2000
"Dadayou Dadahou" ArtScan Gallery Houston, Texas September 1999
"Little Treasures" Robert McClain & Co. Fine Arts Houston, Texas December 1997
"Revelation" Dallas Visual Arts Center Dallas,Texas December 1997 – February 1998 Curator: Diana Block, Director, University Art Gallery, University of North Texas, Denton
"Open Door Arts Fest" The Art Center of Waco Waco, Texas October 1997
"Talented Americans" The Art League of Houston Houston, Texas October – November 1997 Curator: Kelly Klassmeyer, artist and critic
"Spirit in the Flesh" Stuart Levy Gallery New York, New York June – July 1996
"Edith Lambert Gallery" Edith Lambert Gallery Santa Fe, New Mexico November – December 1994
"Final Collections" Ruskin School of Drawing and Fine Art Oxford, England July 1994
"House Work" Christ Church Picture Gallery Oxford, England February – March 1994
"Ruskin Exhibition" Byam Shaw School London, England February 1993
"Ruskin School Exhibition" Christ Church Upper Library Oxford, England February 1993
"Group Collection" Ruskin School of Drawing and Fine Art Oxford, England December 1993
"Senior Show" 1992 Tecoah Bruce Gallery, Oliver Arts Center Oakland, California May 1992
Installations
"Tit Wall" at Bioscience Research Collaborative, Moody Center for the Arts, Rice University, Houston TX, April – November 2018
"Obama" Station Museum of Contemporary Art June 2009 Houston, TX
"Hoopla!" Vine Street Studios September 2000 Houston, TX
Sculpture/performance piece for Downtown Stomp Around
Hillcrest Professional Development School August 1998 Waco, TX
Supervised fabrication and installation of concrete and earth sculpture
The Art Center of Waco October 1997 Waco, TX
Installed (and explained) a 450-gallon pool of red jello at Waco's Open Door Arts Fest
Christ Church Upper Library February 1993 Oxford, England
Installed exhibit of large prints in a 250-year-old library
Visiting Artist/Residencies
Artist Residency, Vermont Studio Center, Johnson VT, February – March 2018
Visiting Artist, St Mary's Calne, Calne, Wiltshire, UK, October 2017
Flat & Fabulous Residency, Berlin Germany September 2015
Hillcrest Professional Development School March 1998 – May 1998 Waco,TX
Taught art and worked with kids to create a permanent outdoor sculpture
HS for the Performing and Visual Arts March 1998 Dallas,TX
Taught conceptual sculpture courses and shared professional experiences with high school artists
Texas Commission on the Arts 1997 – 1998 Austin,TX
Artists-In-Education program participant
Teaching
Lone Star Community College
Adjunct faculty
August 2010 – May 2012
Susanne M. Glasscock School of Continuing Studies at Rice University
Lecturer
September 2007 – December 2007
The Art Institute of Houston
Full-time faculty
October 2006 – December 2009
The Art Institute of New York City
Full-time faculty
January 2003 – October 2005
The Art Institute of Houston
Adjunct faculty
October 2000 – December 2002
The School of the Austin Museum of Art
Part-time teacher
June 1996 – October 1998